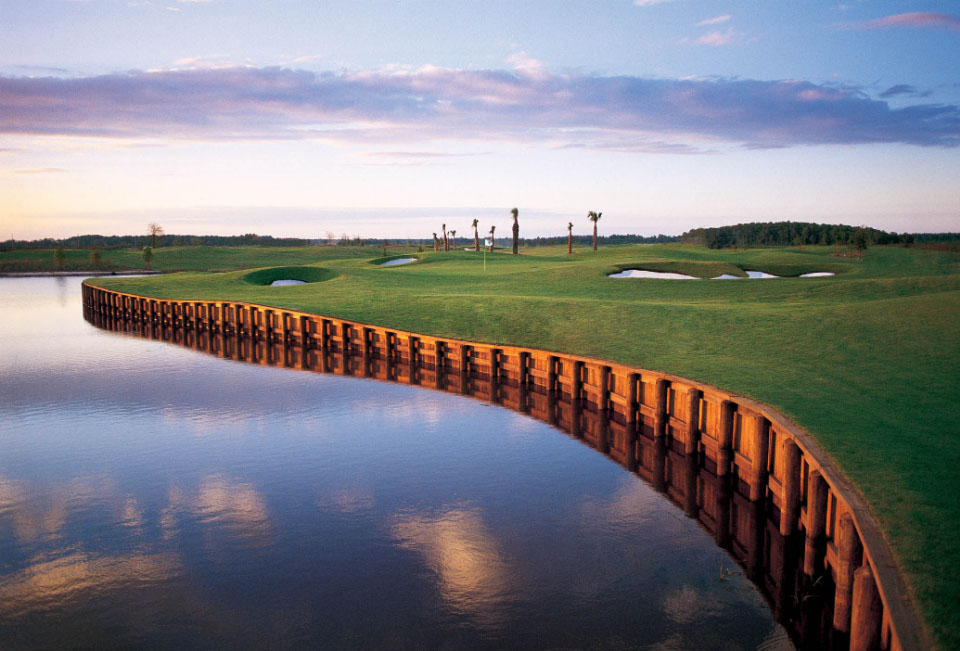 Welcome to the spectacular Eagle Creek Golf Club Orlando, a unique course collaboration that blends the best of traditional European design with state-of-the-art American technological innovation, all under Orlando, Florida's trademark sunny skies.
Designed by world-renowned golf course architects Ron Garl and Howard Swan, Eagle Creek is an extraordinary 18-hole, 7198-yard, Par 73 championship course with five sets of tees for golfers of all skill levels. Howard Swan also designed our highly acclaimed sister course, Boavista Resort Golf Course, in Lagos, Portugal.
---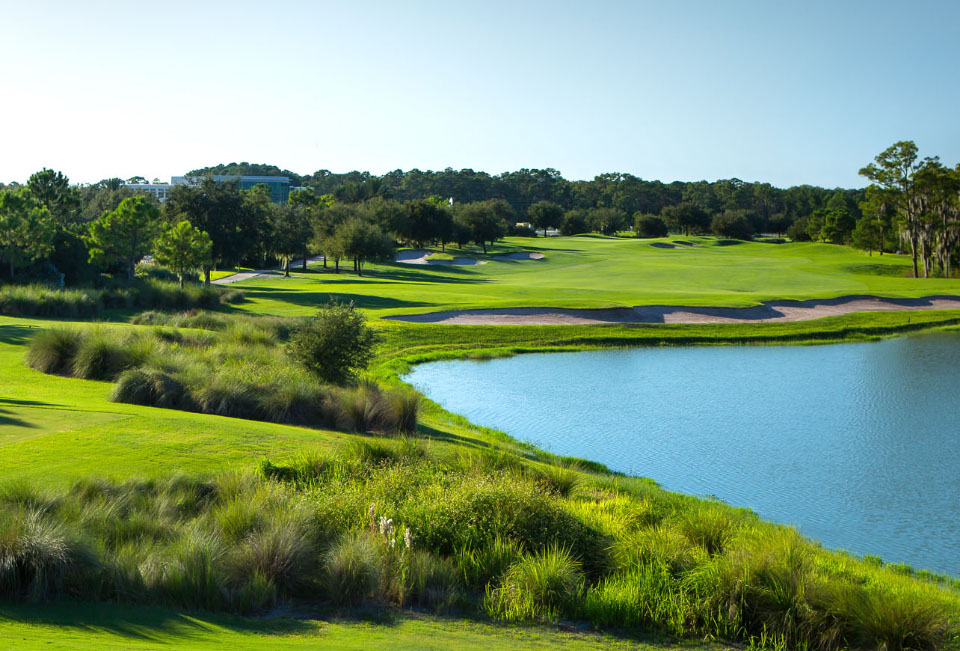 Eagle Creek Golf Club is proud to be part of an elite group of designated "Audubon International Silver Signature" courses, providing pristine surroundings for residents and visitors, featuring more than 60 white sand bunkers and dramatic bulkheads embracing water hazards and greens, all nestled beneath a canopy of towering trees and foliage.
Eagle Creek is Florida's first golf course to use the technologically advanced Mini-Verde grass, resulting in exceptionally fast and vibrant greens. Eagle Creek also offers a two-sided driving range and practice hole with bunkers. A professional teaching academy is on site.
We invite you to Orlando, Florida to join us for an exceptionally memorable and fun round of golf at one of Central Florida's finest signature golf courses.
Scorecard
| Hole | 1 | 2 | 3 | 4 | 5 | 6 | 7 | 8 | 9 | Out |
| --- | --- | --- | --- | --- | --- | --- | --- | --- | --- | --- |
| Black 74.1/132 | 361 | 347 | 396 | 570 | 203 | 444 | 415 | 201 | 528 | 3465 |
| White 72.5/128 | 348 | 330 | 371 | 563 | 195 | 419 | 394 | 182 | 502 | 3304 |
| Yellow 70.3/125 | 313 | 308 | 337 | 512 | 181 | 393 | 365 | 171 | 479 | 3059 |
| Blue M 68.0/118 W 74.0/131 | 291 | 296 | 296 | 480 | 165 | 364 | 337 | 146 | 451 | 2826 |
| Red 70.5/125 | 268 | 265 | 258 | 445 | 149 | 324 | 301 | 119 | 406 | 2535 |
| Men's HDCP | 15 | 17 | 13 | 3 | 11 | 1 | 5 | 9 | 7 | |
| Par | 4 | 4 | 4 | 5 | 3 | 4 | 4 | 3 | 5 | 36 |
| Women's HDCP | 15 | 13 | 11 | 1 | 7 | 5 | 9 | 17 | 3 | |
| Hole | 10 | 11 | 12 | 13 | 14 | 15 | 16 | 17 | 18 | In | Tot |
| --- | --- | --- | --- | --- | --- | --- | --- | --- | --- | --- | --- |
| Black 74.1/132 | 414 | 215 | 436 | 545 | 388 | 425 | 572 | 196 | 540 | 3731 | 7196 |
| White 72.5/128 | 391 | 201 | 405 | 515 | 377 | 405 | 540 | 183 | 520 | 3537 | 6841 |
| Yellow 70.3/125 | 362 | 182 | 374 | 483 | 355 | 380 | 512 | 166 | 489 | 3303 | 6362 |
| Blue M 68.0/118 W 74.0/131 | 335 | 160 | 339 | 456 | 328 | 350 | 470 | 149 | 462 | 3049 | 5875 |
| Red 70.5/125 | 308 | 138 | 311 | 421 | 295 | 318 | 429 | 128 | 422 | 2770 | 5305 |
| Men's HDCP | 14 | 12 | 4 | 10 | 16 | 2 | 6 | 18 | 8 | | |
| Par | 4 | 3 | 4 | 5 | 4 | 4 | 5 | 3 | 5 | 37 | 73 |
| Women's HDCP | 12 | 14 | 10 | 4 | 16 | 8 | 6 | 18 | 2 | | |